The Old Gray Mare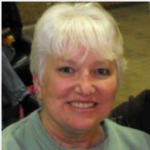 By Janet Plank

·

June 11, 2018
What a morning! I woke up feeling pretty good. I can hear a bit of wheezing, which doesn't happen often, because I'm not really a wheezer. Yet, what a way to start the day. I rode with hubby when he went to the store, seeing the view of the river with boats on it, the garden shop being set up and more, is a sure sign that spring is here. It left me all pumped up, where to start.
Starting with Exercise
I did upper body exercises. My arms are still so weak and I'm sure that's because of the fibro addition to my health record, but it's important to lungs, to get that upper body exercise, so I can use that weakness to be my encouragement. There are some videos on YouTube that I really like. Some are sitting and some standing. You can go to YouTube and type in COPD Rehab or COPD Exercises, then you will be able to check them out. There are a few that want you to buy their videos. That is your choice, however, you can find free ones. I also have a recumbent exercise bike, with a back on it. Because of my osteoarthritis, I am limited with some things, so I do a lot of walking around the house. It isn't healthy to sit or lay for too long if you are able to get up and about. Some people aren't able, and I do acknowledge that. Even sitting, many people can stretch and wiggle your feet, arms etc. I saw a video about a gal that danced her way to weight loss and a better body. I can do that too, only with me, it's like having a setting for slow motion. Trying is the best.
In all honesty, more often than not, I begin the day feeling like I can do anything. I can do any exercise, I can power through any task. I can, well I can sit and say, "I can't do anything, I will not be defeated. I can do the You tube sitting exercises and I can walk through the house, then take a break. I will not have a defeatist attitude, because the day is young".

Making Sure I'm Up and Around
Hourly, I make sure I'm up and around. I try to make these in-house walks fun, by counting curves, by talking the pups into walking with me, by getting a bottle of water out for the next time around. Little bribes, they get me every time lol. Especially when bribing myself. Making it fun is most important to continuing these walks and when bribing myself, I'm less likely to get bored and I am less tired, plus I always win which makes it more fun lol.
Somedays I can't do the exercise bike, or some of the others exercises, because of this old body. Thinking back to one of my mom's old, old songs, "The old gray mare, she ain't what she used to be, ain't what she used to be, ain't what she used to be. The old gray mare, she ain't what she used to be, many long years ago". I like to say that's my song. My hair started turning white in my 20s and I invested in a lot of hair color to change that. I had to stop coloring a few years ago because I couldn't breathe. "The old gray mare she ain't what she used to be", because she needs an oil can for each and every joint, and the muscles are like rubber bands… "she ain't what she used to be" because she struggles to breathe at times and joints don't loosen up, "she ain't what she used to be, many long years ago. It doesn't rhyme but hey, making fun out of what might be hard work or what might depress ourselves can sure make it an easier task and have fun with it.
My husband and pups likely see me as being a bit quirky, but hey, it works. I will accomplish what I can do and will do things periodically throughout the day. "The old gray mare she ain't what she used to be", she's feistier now, she works harder now, and she's not a quitter, "that was many long years ago!
I hope you too find positive ways to encourage yourself to exercise and do more for the health of your overall body. What do you do to encourage yourself?
This article represents the opinions, thoughts, and experiences of the author; none of this content has been paid for by any advertiser. The COPD.net team does not recommend or endorse any products or treatments discussed herein. Learn more about how we maintain editorial integrity here.