Stepping Out in My New Scooter
Last updated: September 2021
Despite what the doctors say, I needed to step up my 'Granny game'. I was tired of watching from my window as my husband and grandson walked all over the neighborhood. Taking the dog for a walk and going to the park was a daily event. My grandson likes Poppa's park the best. Being within walking distance for most people, it was just a tad too far for me to go, even with my walker. In despair, I vowed that I would find a solution and I would be taking my grandson to the park sooner rather than later.
Wrong then and now
When I was first diagnosed and still doing well, my doctor told me that getting a scooter would set me back. They said that it would take away my ability to walk and to participate in life. They were wrong then and more wrong now. My scooter has helped me to participate in life more fully.
Looking used
I searched for used scooters online, but knowing nothing about them made for an intimidating task. The learning curve was steep, and it had to do with batteries that needed to be replaced. I talked to people online and asked for advice but nothing much in the way of education came forth. I wasn't interested in one of the big bulky ones because I wanted it to be portable without needing to pull a trailer.
50 pounds or less
I kept my eyes peeled for one that was under 50 pounds which would make it more portable. I finally found something I liked. My husband agreed that he could lift this one in and out of the car with little trouble, it was reasonably priced, and I could manage to purchase it without government assistance. Now, the only problem with online ordering is that you don't get to take it home today. Waiting for delivery was the hardest part.
Imagine this
You cannot imagine what it has meant to me to have the ability to go further and enjoy more of what life has to offer. My focus is on my life with my grandson. He makes my life worth living and I always have fun when he is around. However, watching from the sidelines is no fun and I want to have the ability to be with him more and attend life with him.
I had dreams of taking my grandson to the park and I was not willing to let that go without a fight. Finally, the day came, the delivery was made, and my husband put it all together for me and charged my brand-new battery.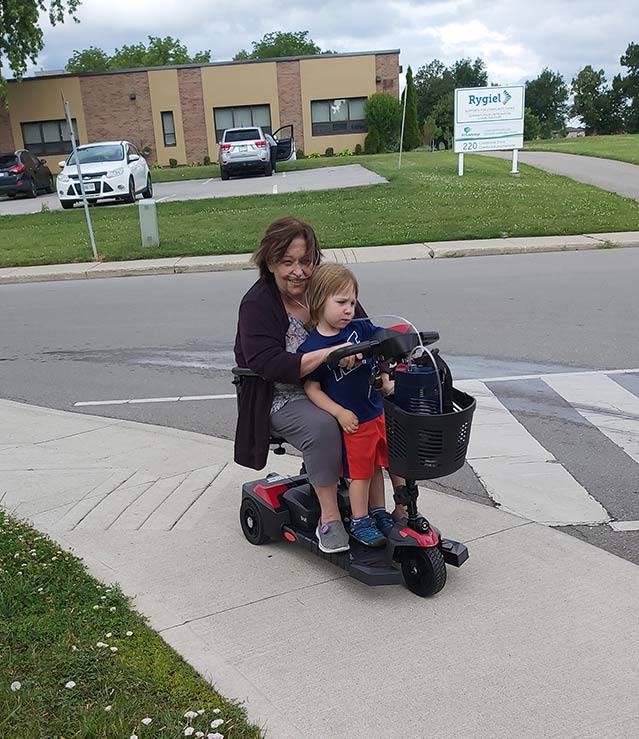 Our maiden journey
Our maiden trip was on a bright sunny day in June. All three of us went to the park and we even took the dog. Being too far to walk didn't take the want out of going. On that first day, I was flying down the street. The wind was in my hair and I was loving life. This was surely the ticket to my newfound freedom. It was amazing. My scooter has opened a door that for a long time I thought had closed.
This article represents the opinions, thoughts, and experiences of the author; none of this content has been paid for by any advertiser. The COPD.net team does not recommend or endorse any products or treatments discussed herein. Learn more about how we maintain editorial integrity
here
.

Community Poll
Where do you stand with your COPD?