November is Alpha-1 Awareness Month
Last updated: November 2021
Not only is November COPD Awareness Month, but it is also Alpha-1 Awareness Month, which is a genetic form of COPD. I was diagnosed with Alpha-1 in 2010 and have been on oxygen since 2011 because of the COPD it has caused.
Alpha-1 Antitrypsin deficiency (Alpha-1) is a genetic or inherited condition that is passed from parents to their children through their genes. A-1 may result in serious lung disease in adults and/or liver disease at any age.1
Common symptoms
The most common symptoms of Alpha-1 related to the lungs are:1
Shortness of breath
Wheezing
Chronic cough and sputum
Recurring chest colds
Symptoms related to the liver are:1
Eyes and skin turning yellow
Swelling of the abdomen
Vomiting blood or passing blood in the stool
Who should be tested?
Testing for Alpha-1 is recommended for the following:2
Everyone with emphysema, COPD, or chronic bronchitis
People with Bronchiectasis
Newborns, children, and adults with unexplained liver disease
People with a family history of liver disease
Blood relatives of a person diagnosed with A-1
One with Panniculitis, a skin disease
Spreading awareness
Every year for the last 9 years, our support group has gotten a proclamation from the state of Illinois for Alpha-1 Awareness Month. We also hold a fundraiser and awareness event to help spread awareness every year.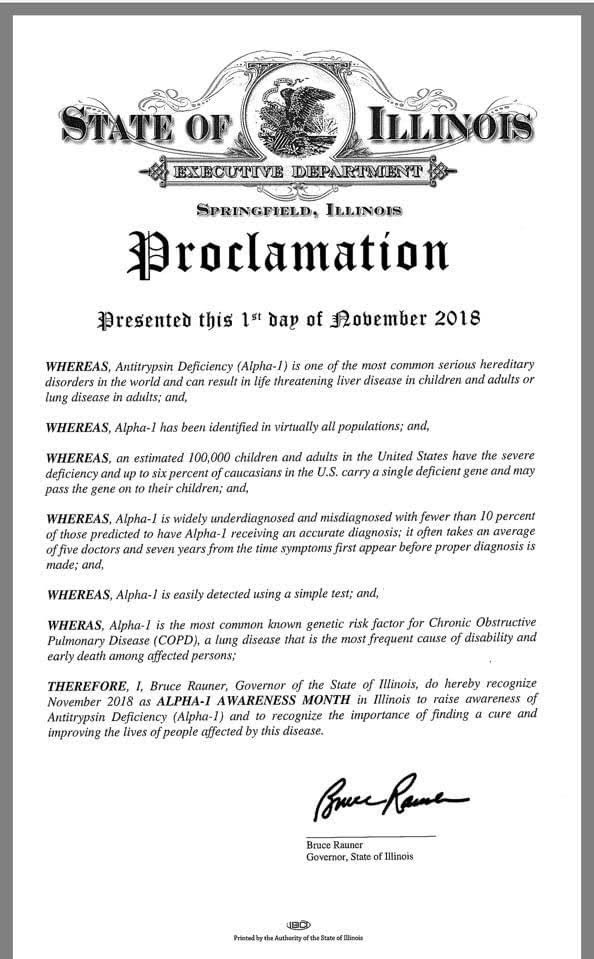 Current evidence suggests that there are at least 100,000 people with Alpha-1 in the United States. Alpha-1 occurs when there is a lack of protein in the blood called Alpha-1 Antitrypsin or AAT (produced in the liver). The role of AAT is to protect the lungs from inflammation caused by infection and inhaled irritants, such as tobacco smoke and chemicals.1
Walk for a cure
Every year on November 1st, I with many other Alphas, always start posting facts and memes about Alpha-1 on social media to spread awareness.
We change our profile and cover pictures. We also join The Alpha-1 Foundation's Walk For A Cure every November to help spread awareness and raise funds for a cure.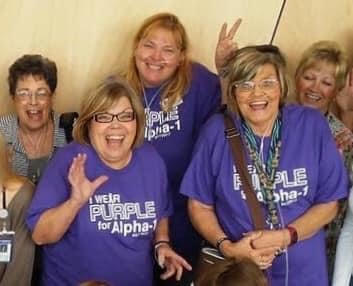 Do you help raise COPD or Alpha 1 Awareness every November? Please share your story in the comments below.
Do you have a COPD story? Click the button below to share with our community!
This article represents the opinions, thoughts, and experiences of the author; none of this content has been paid for by any advertiser. The COPD.net team does not recommend or endorse any products or treatments discussed herein. Learn more about how we maintain editorial integrity
here
.

Community Poll
Where do you stand with your COPD?