Russell Winwood
Last updated: February 2021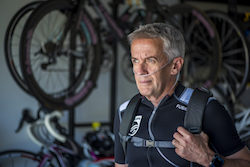 Russell was previously an advocate on COPD.net.
I was diagnosed with asthma at the age of 10. At 36 I had a stroke. The paramedics who attended to me when I had my stroke visited me in the hospital 3 days later, as they didn't believe I had survived. After rebuilding my life from my stroke, I was hit with yet another health issue at 45 – COPD (Chronic Obstructive Pulmonary Disease).
My name is Russell Winwood (also referred to as the COPD Athlete). My disease has left me with just 30% lung function, and my life operates in an extreme environment. Imagine spending every hour of everyday being short of breath. My disease has no cure. It's progressive and it kills over 3 million people every year.
So faced with this, I could have let this disease slowly suffocate the life out of me. I decided instead to do an Ironman event, and then another, and another. Then I thought I'd run marathons around the world and raise money for charities- New York marathon, Gold Coast marathon, London marathon, and most recently, the Boston marathon.
I'm very different from other disabled athletes who may have lost a limb or been confined to life in a wheel chair. My disability effects the number one thing in life we cannot do without – the ability to breathe. My disability doesn't have a category in the Para Olympics or any event, because people with my disability don't run, cycle, or swim. Patients with my level of disease are generally house bound and very immobile, and many find it hard to go on.
I have found a way of living well with COPD, and have spent most of my days sharing my experiences with patients and respiratory professionals. I have written over a hundred articles about my disease, the highs, the lows, and my strategies that allow me to live well with COPD.
My dream is to run a marathon with one of my grandchildren, when they are old enough. My disease will never define me!
Click here to read all of Russell's articles on COPD.net.