Jackie English
Last updated: November 2022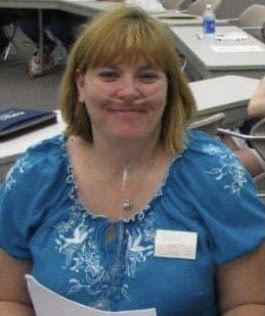 I am 50 years old, live in Illinois, am married to my caring husband Dave, have 3 beautiful kids and their spouses, and 5 grandkids that I adore.
I was diagnosed with Alpha 1 Antitrypsin Deficiency in June of 2010 at the age of 39 when my children were 21 (Michael), 18 (Danyelle), and 11 (Tyler). My life completely changed that year. I had many appointments with pulmonary specialists and many different tests including CT scans, x-rays, breathing tests, blood tests, and more. It was a very scary time at first.
When I was still able to work, I was a CNA (for 20+ years) and a cook at our county jail. I really miss working but found many ways to fill my time and keep me moving including watching my grandkids and advocating for others like me.
After much research and getting to know the Alpha 1 community, I became an advocate and support group leader. I helped start a nonprofit for Alpha 1 patients (alongside my friend Deb Burwell) in 2012.
I'm fortunate to have the help of my family, friends, and my Alpha 1 & COPD families to help keep me going.
In my free time, I love watching my children and grandchildren with their sports and hobbies which include demolition derbies, basketball, volleyball, and many other family activities. Someday I hope to get out of Illinois for the winter and enjoy the sun in Florida or Arizona.
Life surely changes when you find out that you have a chronic illness, 36% lung function, need oxygen 24/7, and that the condition can be fatal. However, after learning to advocate for myself, take care of myself through a good diet and exercise, tend to my mental health, and allow family and friends to help when needed, I found out that..."I've got this!!!!!"
Click here to read all of Jackie's articles on COPD.net