Meet the Woman Behind the Bags!
Last updated: November 2018
Cheryl generously donated four different oxygen totes for our COPD Awareness Month giveaway this November. We took the opportunity to ask her some questions to find out why she started making these bags and how they help her in her COPD journey.
Be sure to check out the bags and enter to win! Cheryl also has an Etsy shop where the bags can be purchased.
Tell us about yourself and your diagnosis
I am a mother of 4 and a grandmother of 3. For the past 25 years, I have lived in a resort town. The summers are beautiful and the winters are cold, as I am in Central New York State.
After a 5-day stay in the hospital in the fall of 2015, I left with an oxygen tank having been diagnosed with COPD. Back then I only needed the oxygen when I was going to be exerting myself. That changed in the spring of 2017 to be on oxygen 24/7.
What made you want to start making portable oxygen totes?
When I got my portable oxygen concentrator, I also got an ugly dark brown canvas bag. The first time I went out in public to a store, I felt self-conscious. Not just because of the hose across my face and the tubes in my nose, but this ugly bag I had to carry around with me. I got the 'look' from both adults and children. It was the children that bothered me as they seemed scared of both me and that bag with the hose snaking out of it. My self-esteem tanked.
In 4th grade, all the girls in my class were taught crocheting by our teacher while the boys were off doing whatever boys did. I have crocheted my entire life and decided to make my own bag for my POC. It was very basic, but I got compliments on it while I was out. I did get a look from a little girl that inspired my next and still one of my favorite POC Totes. My Pig tote. When I went out with my POC in it, I caught little kids pointing but not at me. Instead, They were pointing at the pig tote because it is really cute.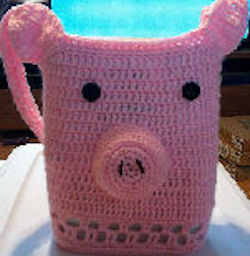 It only took that Pig tote to give me back the desire to be a part of the world again. I wondered if there were others out there that one of my totes might help them in not feeling so self-conscious. That is when I started making them to sell. I don't make them to get rich off of, as they are very inexpensive compared to what is being charged for POC bags. I make them because when I get a message back from a buyer that says how much they love their tote, I get the last smile.
Have you always used the same knitting pattern for the totes or have there been changes since you first started?
My first tote was very basic. Over the past year, I have stuck with the basic pattern but tweaked it some. I asked those who purchased the totes to send me any suggestions they had for making them even better. I got some great suggestions and added them to my pattern.
Do you make or sell any other items?
I make about anything that can be crocheted but other than the totes, I have only sold messy bun hats.
How does this hobby/business help your COPD?
Crocheting is relaxing for me. If I get stressed out in having a bad day with my COPD, it helps. While in the hospital this past winter for a couple of weeks due to a build-up of C02, I made messy bun hats for the nursing staff on the floor I was on and gifted them out to them.
These totes are a great way to spread COPD awareness. What does COPD awareness mean to you?
Awareness means getting the information out there about COPD. Before I was diagnosed with the disease, I knew nothing about it. Now, I read everything I can about it so that I stay informed. In order to fight something, you have to be aware of what it is.
What advice do you have for those in the community who are struggling with oxygen use in public?
The totes I make helped me, but so did a few other things.
I am on 2 ltr of oxygen which allows me to use Adult Mini Cannulas. They are smaller and make a world of difference for me. The hose is clear which gets rid of that green hose that screams 'I am on oxygen'. The piece with the nose tubes is smaller, more comfortable, and less noticeable. Even the hoses across my cheeks are smaller. My insurance doesn't cover them, so I pay for them but they are worth every dollar in giving me more self-pride in going out.
I know it's hard to get out there when you feel you are in a fishbowl and the world is staring at you. They might be, but most of the time it's out of curiosity rather than ridicule. That is why COPD awareness is so important.
Interested in entering a giveaway to win one of Cheryl's handmade oxygen totes? Click here to enter our giveaway!
This article represents the opinions, thoughts, and experiences of the author; none of this content has been paid for by any advertiser. The COPD.net team does not recommend or endorse any products or treatments discussed herein. Learn more about how we maintain editorial integrity
here
.

Community Poll
Have you taken our COPD In America survey yey?