Rose Colored Glasses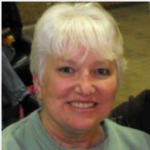 By Janet Plank

·

October 19, 2017
When I was younger, I would tell my dad that I wanted to be happy, in life, at work, in everything. My dad would tell me that I wasn't being realistic, I was wearing rose colored glasses. My dad was a business owner who worked hard. All 3 of us children worked for him and the company for much of our lives. He wanted the best for each of us.
At one point in my life, I left to take a job working ambulance as an EMT and met my now husband of 14 ½ years on a call. About 6 months later, we moved to the Black Hills of SD. My husband was deputy and I was offered the best job ever as an EMT-I with the ambulance service. Happiness was real and dreams had come true.
My dad never talked to me about rose colored glasses after that.However, I still think about it. I think about how it affects my COPD health life and the life of so many others.
With a COPD diagnosis of moderate to severe, it seemed that the bottom dropped out of my life.
I was lost with nowhere to turn. How was I going to live this life, when I wasn't sure what it was. How fair was it going to be to my husband, because it was affecting everything that we both enjoyed doing. I put my EMT-I license on hold for 2 years, knowing that the last time I did CPR I struggled because I couldn't breathe. I remember carrying a tiny baby into the hospital in a car seat and I couldn't breathe walking or carrying her. Thankfully my partner took over. I also discontinued my paramedic classes. I knew I couldn't do that anymore. We ended up moving closer to home.
Where are my rose-colored glasses?
Where was the optimism that gave me hope and the will to overcome? I was lost. I went online and asked if there were others who felt lost and alone. There were so many and everyday there are more. I was beginning to see a hue in those rose-colored glasses. I began to find hope again, because I met others who understood.
There is strength in numbers, we learned together, helped each other and began to understand COPD. Chronic Obstructive Pulmonary Disease. Yes, it's irreversible. However, with exercise, diet, nutrition, medication, seeing your doctor, a support system and oxygen when needed, a person can help to slow the progression of their disease. That's hope!
Over time, even after numerous exacerbations, I've come to the conclusion that there are so many things in life that can affect my health: allergies, asthma, back, etc. I shower and cross the street. With all of the scary things, who knows what the future holds.
When I realized that, COPD wasn't quite as scary.
Sure, I still have all of the things that COPD puts in front of me. These are things that my rose-colored glasses help me with. I see a bigger picture now. That's something that I hope to share with you.
We know how we feel physically, mentally, emotionally and spiritually. But there can be hope. We don't know what our future will be. We don't know how we will die or when. We do know that we are alive now. We can exercise and work to improve our health. Ask your doctor about getting into a pulmonary rehab program if it's offered. Find a way to build a memory for that day and write it down. Sometimes you may look back and see that there was a bit of joy in that.
Do you have family to share your history with? How exciting that might be for them. Build memories along the way! Find a hobby or craft, it's wonderful therapy, and find a support group. You might find something to look forward to. I feel I miss out on so much, so I find a window to look out and I find peace and enjoyment there.
My rose colored glasses are in place. Sure, sometimes I forget where I put them and later when I settle down, I realize they are right there and with me all the time.
This article represents the opinions, thoughts, and experiences of the author; none of this content has been paid for by any advertiser. The COPD.net team does not recommend or endorse any products or treatments discussed herein. Learn more about how we maintain editorial integrity here.