How to Make Life with COPD Easier: My 3 Things
When I say three things that make my COPD life easier I'm not talking about the medications I take, the fact that I'm on oxygen 24/7, or use a non-invasive ventilating machine when necessary. I'm talking about those little everyday things that go a long way in improving my breathing and make it a little easier to deal with my COPD. We all have our little ways of dealing with COPD that make our life better, but, for those of you who are new to COPD or the later stages and have a hard time dealing with the limitations of COPD, the things I'm listing here I find to be a big help in my everyday life.
Air conditioning
Since first being diagnosed with COPD 18 years ago I have moved several times, bought several mobile homes, and vehicles. The first question I asked whenever I look at a house, apartment, vehicle or trailer I am going to buy, was does it have central air. If the answer to that question was no, I didn't even bother going any further but hung up the phone. Air conditioner for me is a breath of fresh air. I have even use my air conditioner in the dead of winter when it was freezing and 2 feet of snow on the ground. Sometimes when I become extremely short of breath the only thing that helps get me back to normal is air conditioning.
This past summer my van's air broke down while driving back from the skating rink with my grandsons. It was only two miles to my house but it was 92 degrees outside and although I was wearing oxygen, by the time I got home my oxygen level had dropped to 79. The oldest of my grandsons had to hold onto me till I reached my door and got in my house. As soon as you walk in my door is a chair - the best I could do is hold on to the back of that chair to get to my breath enough to be able to walk any further. Summer heat and humidity are very hard on COPD, that's why I feel all COPDers should have air. Sometimes I become a fool and overdo things.
When that happens not only do I become extremely short of breath but my heart goes crazy. And whether it's summer, fall, winter, or spring I begin to sweat and become extremely hot. The air around me feels so thick that the only way I can catch my breath is to turn on my air conditioner. Putting on my ventilating machine helps my breathing, but I still have to cool-down the area I'm in to bring me back to normal state.
Air conditioning is also good because it helps filter out most air pollutants which is especially important if the air-quality inside or outside is bad. You just have to make sure you maintain your air conditioner regularly by changing the filters. If you don't maintain your air conditioner properly it will cause more problems than it solves. An unmaintained air-conditioner will put pollutants back in the air causing you to become short of breath easier in some cases producing allergy or asthma attacks. I learned that the hard way by having a dirty air-conditioner cause me to have an asthma attack. That was many years ago, but now, every three months I have my air filter changed. Also your car has an air conditioner filter - make sure you have it checked and changed as needed. Air conditioning is a wonderful thing.
Mobility scooter
I rarely use my scooter in the house although I have at times when I've been very ill. Then I use it to get from my bed to the bathroom, living room or kitchen so I can do what I need to without getting so short of breath I collapse. But mostly my scooter is used for outings. Up till this past summer I have taken 2 to 3 road trips every year. While I could get from place to place in my van once I got where I was going, I need to be able to get around. For several years now I have been unable to walk more than 10-15 feet without becoming very short of breath. I am not the type of person to sit in my house, go nowhere and do nothing. So one of the best things I ever did was buy my scooter. I keep my scooter fully charged and in my van that way whenever I'm ready to go, so is my scooter.
<

With my granddaughter and cousin waiting for a boat ride around Manhattan Island; On my scooter and ready to go.
I haven't gone an any major trips this year but, I still go out to lunch, have taken my grandchildren bowling, rollerskating, have gone to church with them, and gone to Lost Sea Adventure in Tennessee. I was able to get out and see these places because of my scooter. My oxygen fits neatly between my two legs on the foot rest of my scooter. In the basket on my scooter I can carry my small hand-held nebulizer, and small battery operated fan in case I need them. My scooter makes it a lot easier to go shopping in stores that do not provide scooters such as Dollar tree (a lot easier than pushing a cart and having to rest every 5 feet), 7/11, and restaurants.
With 3 of my grandsons, At Lost Sea Adventure in Tennessee, Museum of Natural History, NY and shopping at Dollar Tree.
In good weather if I want, I can just go for a ride on my scooter down my street to get some fresh air. My scooter gives me the freedom that without it I would never have. Just walking down the two steps from my front door 5 feet to my car and my COPD and CHF gets so bad I have to sit for anywhere from 5 to 15 minutes till I'm back to normal and can drive away.
Out for a ride on my scooter with my daughter.
Using a scooter is not good for everyone, I would advise anyone who is still capable of walking to walk as much as possible and get as much exercise as possible. But if you are already limited in your ability to walk and have become housebound due to it, I'd advise you to get a scooter and get your freedom back. When I lived in places where I was able to do so I chained my scooter outside and would often take a ride around the neighborhood during the day. Getting out in the fresh air is a marvelous way to boost your spirits and make you feel I can do this, COPD doesn't control me - I control it.
My family
From the time I was diagnosed with COPD my family has given me their full support. There has never been a time when I have called on a member of my family for help that they didn't come or send someone in their place. My daughter, my stepchildren, my grandchildren, even my great-grandchildren are aware of my condition and the struggles I go through dealing with my COPD, CHF, and panic disorder. All the members of my family always help me out anyway they can. If I need someone to shop they go shopping for me, if I need my house clean or laundry done and cannot do it myself, my grandson comes over and does it for me. At this particular time one of my step-daughters (Renee) has been staying with me. She works at Wake Forest Baptist Medical Center in Winston-Salem which is about a 45-minute ride from my apt. When she gets off of work on the way home she called and asked if I need anything, and when she gets home and we're ready to eat she fixes a plate for me and brings it to me in the living room.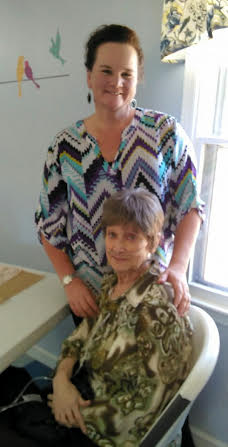 Renee and Me; Me, Susan, and the three grandsons that come over and help me out whenever I ask; Philip and Susan.
My other step daughter Susan calls me every day to make sure I'm all right and stops by to see me at least three or four times a week.
As of November 1, I will be moving into a 30 foot travel trailer (I like living alone), that Susan and her husband Philip set up on their property. My front door will be 20 feet from theirs, that way they won't have to worry about me so much. Anytime I need someone they will be right there for me. They will be able to take one in the morning when they get up, Susan will check on me when she comes home from work at 2:30 pm and my grandsons will be able to walk over to see or help me anytime they want without having to drive 15 miles. And I will feel much better knowing that if I go into distress, my heart acts up, or I have a severe panic attack someone will be at my side in less than a minute instead of the 20 minutes it takes now.
I have read the post where many of you in the groups complain your families don't understand what you go through and each time I read one of your complaints about this issue I realize how lucky I am to have a family that is completely supportive and understands my condition and the hardship having a chronic condition like COPD causes.
My faith
I know I said three things that makes my life with COPD easier but there is a fourth and the most important one for me. I have been on my death bed three times with my doctors always telling me the same thing. "I would not make it out of the hospital and if I did I would be dead within six months". The first time I heard those words was 13 years ago. The fact that I'm still alive I attribute to my belief that God has a plan for me. Until that plan is completed no matter how bad my COPD, CHF, panic disorder, or my newest diagnosis lung cancer gets; they "Can't Kill Me" God has my back - which is the thing that makes living with my COPD the easiest for me. My faith gives me hope that a cure will come and if I'm really lucky God will let me live to see it.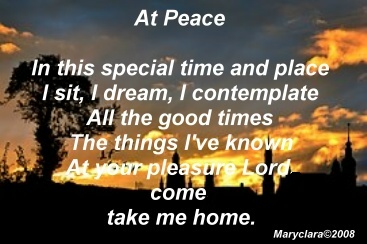 Let us know in a comments what makes living with COPD easier for you. Breathe deep and easy.
Editor's Note: We are extremely saddened to say that on March 2, 2018, Mary Ultes passed away. Mary was an engaged advocate for the COPD community who strived to help people live fulfilling lives. She is deeply missed.
This article represents the opinions, thoughts, and experiences of the author; none of this content has been paid for by any advertiser. The COPD.net team does not recommend or endorse any products or treatments discussed herein. Learn more about how we maintain editorial integrity
here
.

Community Poll
Have you started a discussion in our forums?