Your Letter to Congress
One meaningful way to spread COPD awareness and start the conversation is to write a letter to your legislators. Tell them why it's important to give COPD a broader platform and support federal research funding. We've put together some steps and resources to help get your letter in the mail.
Step 1: Who represents you?
Find the name and address of your senators HERE and representative HERE.
Step 2: Download and print
Download and print our letter template below: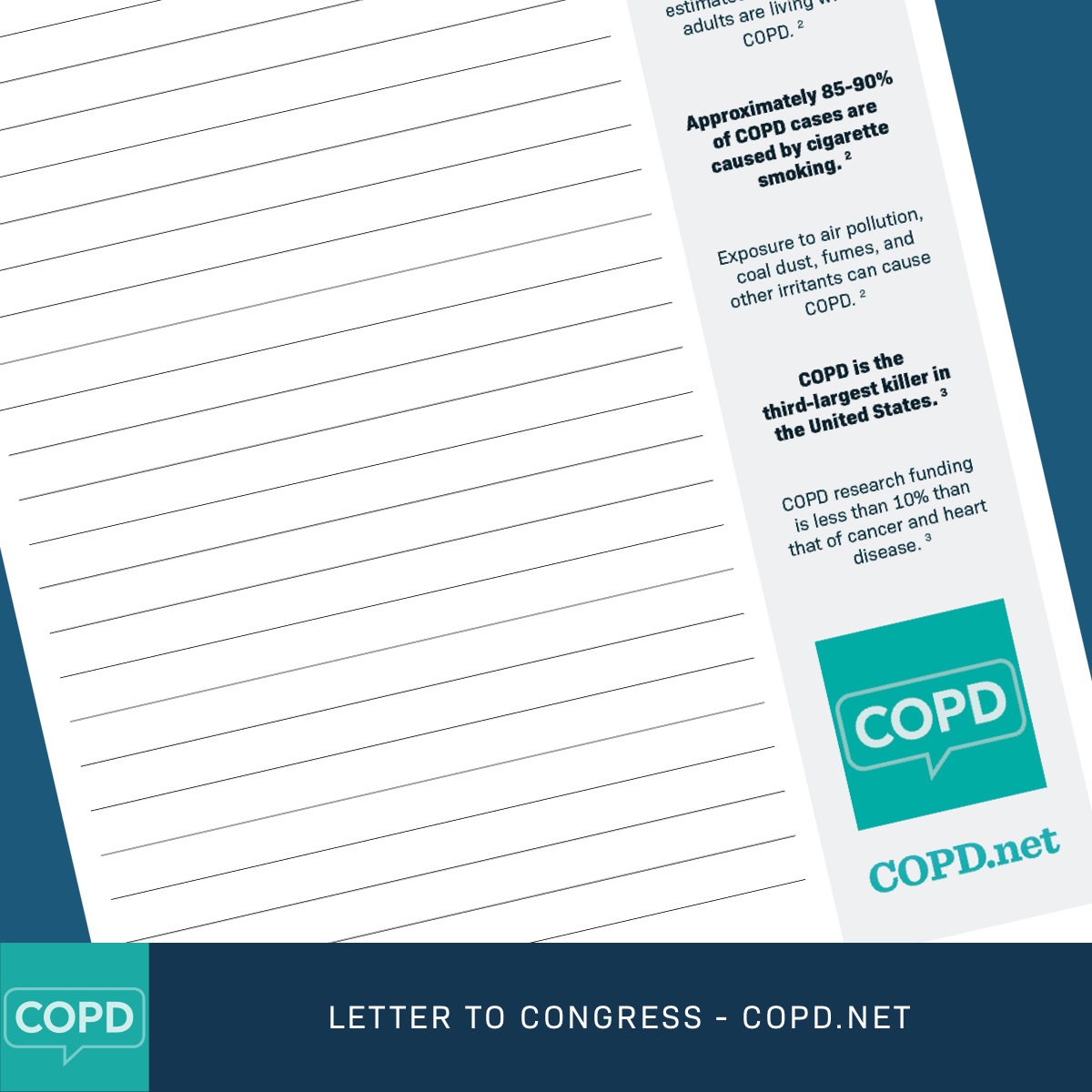 Step 3: Tell your story
Write your story and why you're calling on your legislator to support awareness efforts and legislation in favor of increased federal funding for COPD research. Make it personal! To help get started, feel free to use Kevin's sample letter and its facts about COPD in your own letter.
Sample letter
Dear [your legislator's name],

More than 65 million people around the world have moderate or severe COPD.

I am one of them.

In 2015, (most current figures) 3.2 million people worldwide died from COPD, an increase of 11.6 percent compared with 1990. During that same time period, (1990-2015) the rate of COPD increased by 44.2 percent to 174.5 million individuals.1 In the United States, an estimated 16 million adults have COPD. However, the American Lung Association (ALA) thinks there may be as many as 24 million American adults living with COPD.2

What causes COPD?3

Smoking – Approximately 85 to 90 percent of COPD cases are caused by cigarette smoking. A burning cigarette creates more than 7,000 chemicals. The toxins in cigarette smoke destroy air sacs and weaken your lungs' defense against infections – contributing factors for COPD.
The Environment – Long-term exposure to air pollution, coal dust, secondhand smoke and dust, fumes and chemicals (often work-related) can cause COPD.
Alpha-1 Deficiency – This form of COPD is caused by a genetic (inherited) condition that disables the body's ability to produce a protein (Alpha-1) that protects the lungs.

Although COPD is the third largest killer in the United States, the disease receives nowhere near what #1 killer (Cancer $1.8 billion) and #2 killer (Heart Disease, $1.2 billion) receive in research funding.4 The research funding dedicated to COPD in 2019 is $97 million dollars. While that may be an impressive figure, in 2015 it was $107 million dollars. 165th in government funding.5

Please contact the National Institute of Health (NIH) on my behalf and other constituents of yours who suffer from COPD and request that the funding for COPD research be increased to reflect the number of Americans and American families it so terribly hurts.

Sincerely,
[your name], a COPD advocate
Step 4: Share your letter
Take a photo of yourself with your letter and email it to contact@COPD.net to be featured on the site!
Step 5: Drop your letter in the mail
Seal, stamp, and send to your senators and representative!
This article represents the opinions, thoughts, and experiences of the author; none of this content has been paid for by any advertiser. The COPD.net team does not recommend or endorse any products or treatments discussed herein. Learn more about how we maintain editorial integrity
here
.

Community Poll
Do you have an exacerbation toolkit?