Best Holiday Gifts for Someone with COPD (Part 1)
With the holiday season fast approaching, gifts become foremost on everyone's mind. Buying a gift for someone with COPD can be quite a challenge. The things most people think are what should I get, are they ever going to be able to use my choice of gifts. To successfully buy a gift for someone with COPD, first make yourself aware of the gift a COPDers will get the most use out of and will make living with COPD a lot easier. I have compiled a large variety of gifts that would be perfect for any COPDers to receive. I have listed them in categories that will make it easy for you to find the gift you feel is perfect to give or receive. I have listed prices on many of the things starting at five dollars and going all the way up to over $1500. That way you can make sure to buy within your budget and even the young kids or grand-kids of COPDers can find something they can afford on their allowance. Although, I always like hand made gifts from my grandchildren and great grandchildren.
If you have COPD you might want to go through this list, print it out and circle the things you need or want and conveniently leave it around the house as a hint of what you want or just give it to your loved ones and let them know that receiving one of the things on your list will make your holiday merrier and your COPD life a little easier. From medical to personal gifts I'm sure everyone will find something on my list they find to be the perfect gift to give or receive.
Medical and health gifts
For those with COPD, products that help them monitor their medical condition and health is a must. This category has several choices that would not only help the COPDers monitor their health, it will also help them improve their health and make living with COPD a little easier.
Smoking Cessation programs- many are free. The most important thing a person with COPD can do is, if they're still smoking, quit and one of the best gifts you can give them is a push in that direction. Look online to find one that you feel they can stick with & help them all you can by cheering them on, and giving any support needed until they are smoke-free. This is the gift of a longer and better quality life.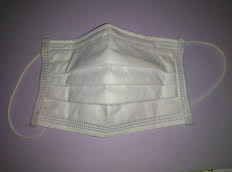 Cold Weather Mask- $6 - when the weather is cold or even a little windy out it is hard for a person with COPD to breathe. Even walking to the car is a problem. A mask that covers the nose and mouth help solve that problem and is easy to remove once they're out of the weather.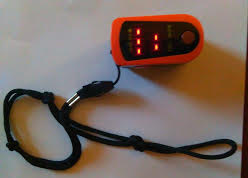 Pulse Oximetry- $15/45 -This is a device that measures the oxygen saturation in the blood. It lets those of us with COPD know things like how our medicines are working, if we're receiving enough oxygen while exercising, and when short of breath it is useful in letting us know how well/fast our pursed lip breathing is bringing oxygen level back to normal. I got this for $13, on sale and it works great.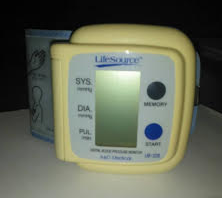 A blood pressure monitor- $10/$20-having severe COPD can lead to cardiovascular problems and knowing one's blood pressure can help tremendously by letting COPDers know if their blood pressure is too high or too low so they can take steps to correct it. Goes on wrist, works great, has hard plastic case the protect it when not in use.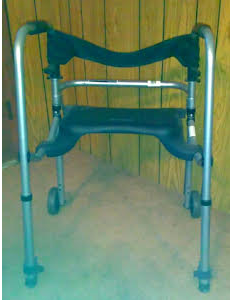 Walker $30 & up- helps those who have a problem walking or with balance. Get one with a seat so if necessary they can stop, sit and rest. There are many types of walkers; this is the one I have, the seat goes up when walking, and when you stop or sit the automatic break stops it from moving.
Breathing Exerciser- from $4.99 for a Voldyne Volumetric Exerciser to $120- for PowerLung Breathing Exerciser. These exercises help strengthen the lungs & teaches COPDers how to take slow deep breaths. When the COPDer strengthen their lungs, it enables them to do more with fewer episodes of shortness of breath. Here are three I like the first best & it is the cheapest.
HEPA Air Purifier- as low as $89.99. No matter how clean the house is there are airborne irritants and pollutants floating around which is not good for the COPDer breathing. A HEPA air purifier removes 99% of pollution from the house making it a lot easier on the COPD. I have the tall type, it's a big help in preventing nosebleeds from using oxygen for so many years.
Electric scooter from $650- will give someone with severe COPD who has a limited ability to walk any distance the ability to get around the house, but easier to get out and just take a ride around the neighborhood. When you have severe COPD most of the time a walker just isn't enough. The the one I have has four wheels for better stability, goes 3 miles an hour and holds a charge well. I take it everywhere I go.
Portable Concentrator- $1,500 & up- I know this is a pricey gift but for those who are on oxygen it can increase their ability to get out and about with much less effort than pulling around the large oxygen tank and it lasts longer than a smaller tank unless you're using an on-demand device.
I'm sure any of the gifts in this category would be more then happily received by any COPDer. The pictures give you an idea of the many different types.
Exercise gifts
Regular exercise can help COPDers use oxygen more efficiently, makes them feel better, sleep better and improves the overall quality of life. Some great gifts to make it easier to exercise include:
A Portable exercise bike- $30 & up- for those who can't use a regular exercise bike, this apparatus sits on a tabletop or on the floor and is used sitting in a chair. It is excellent for exercising legs, arms, upper chest & heart muscle. I have the first one it is manual & is easy for me to use, but, many COPDers prefer the second electric one.
Floor exercise bike- $300 & up- there are different types of bikes so make sure you get the one best for the person who is to use it. Stationary bike - only legs move, air resistance bike-legs and arms move, and recumbent bike - legs, arms move and has back supported. A lot of COPDers find this one the easy & best for them. Make sure the resistance can be adjusted on any bike you choose.
A Treadmill (make sure it is motorized) $200 & up- Is a great help for those who can't get out and walk. Walking not only helps your lungs, but strengthens you heart, relieves stress, & helps prevent weakening muscles & bones. To me only swimming is a better exercise for overall health.
Exercise bands or twist and bend snake bar- step exercise prices for these items start at as low as $4.50- Any Exercise Equipment that will help strengthen the lungs and keep the legs, arms, and heart muscle from weakening.
Gym membership- $10 a week - this is great for the early COPDer. The better shape they stay in the better the more/longer they be able to live as normal a live as possibly.
Pulmonary rehab- cost ? - a team of specialists teaches exercise, education, and helps the COPDer learn to breathe better & improve the quality of their life. Price can be high if self pay, but well worth the money.
All the gifts I talk about can be purchased at most pharmacies, change store, or online. To find the item you want just go online, type the name in search to find where you can buy it and the price. Look for Part 2 - it's on items to help at home and Part 3 is more personal and common types of gifts but keeping COPDers in mind. Breathe deep and easy.
Editor's Note: We are extremely saddened to say that on March 2, 2018, Mary Ultes passed away. Mary was an engaged advocate for the COPD community who strived to help people live fulfilling lives. She is deeply missed.
This article represents the opinions, thoughts, and experiences of the author; none of this content has been paid for by any advertiser. The COPD.net team does not recommend or endorse any products or treatments discussed herein. Learn more about how we maintain editorial integrity
here
.

Community Poll
Have you taken our COPD In America Survey yet?